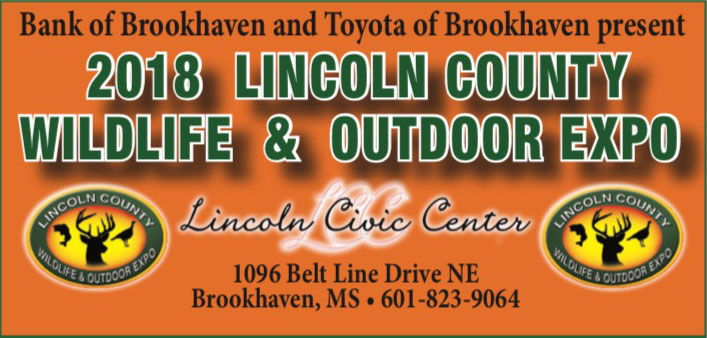 1096 Belt Line Drive NE • Brookhaven, MS • 601-823-9064
Friday, August 24 - 5:00pm to 9:00pm • Saturday, August 25 - 9:00am to 7:00pm
Admission Fees: Adults (13 and up) $6.00, Children (7-12) $5.00, Children (6 and under): Free
Second Annual Lincoln County Wildlife Expo and QDMA Fundraiser Banquet
Thursday Night, August 23, 2018
Located at the Brookhaven Building
Starting at 6 PM
Sponsor Packages and amenities available
For info contact Bruce Gray - 601-754-5592
(Promo Code: Expo)
FANTASTIC EVENTS TO LOOK FORWARD TO THIS YEAR!
Pig Catching
Jump Zone for Kids
Animal Viewing Area
Museum of Natural Science
Baby Alligators
The Snake Man Terry Vandeventer
Face Painting
Hand Grabbing Tanks
Aim Program Bow Shoot
Open Bow Shoot under Stall Barn
Lots of great booths and food
Professional Lumber Jack Shows
CAMPERS, FIRE PITS, BOATS, AND MUCH MUCH MORE
Bring the Entire Family as there is something for everyone!!
Learn More >


Check us out on Facebook
---
The Lincoln County Wildlife and Outdoor Expo is an annually event hosted and sponsored by The Lincoln Civic Center Commission, Board of Supervisors and The Lincoln County Wildlife and Outdoor Expo Committed (LCWOEC) during the second full weekend of September and we all look forward to the event each year so mark your calendars now to attend! If you are interested in booth space to exhibit your products or service, Please don't hesitate, call us today to reserve your space in the upcoming expo in order showcase your products and services to a targeted outdoor enthusiast based audience.
Again, We all look forward to seeing each of you annually at the Lincoln Civic Center (LCC) for the Lincoln County Wildlife and Outdoor Expo.
Sincerely,
Quinn Jordan - 601-823-9064
LCC Facility Director
LCWEC – President