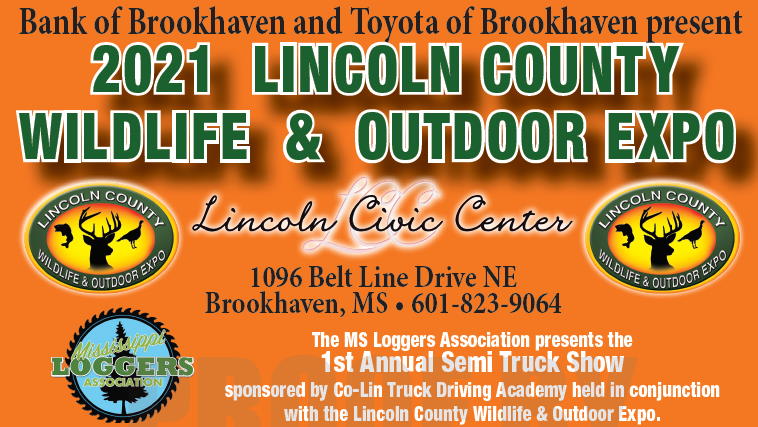 1096 Belt Line Drive NE • Brookhaven, MS • 601-823-9064
Friday, August 20 - 5:00pm to 9:00pm • Saturday, August 21 - 9:00am to 6:00pm
Admission Fees: Adults (13 and up) $7.00, Children (7-12) $5.00, Children (6 and under): Free
Southwest MS NDA Branch & Lincoln County Wildlife Expo
GUN BASH
Thursday Night, Aug. 19, 2021
Located at the Brookhaven Building
1154 Beltline Drive, Brookhaven, MS 39601
Doors open at 6 PM
Sponsor Packages and amenities available
For info contact Bruce Gray - 601-754-5592
 
FANTASTIC EVENTS TO LOOK FORWARD TO THIS YEAR!
Logging Equipment Show & Touch a Truck for Kids
Pig Catching
Jump Zone for Kids
Museum of Natural Science
Baby Alligators
The Snake Man Terry Vandeventer
Face Painting
VFD Hand Grabbing Tanks
Aim Program Bow Shoot
MS Archery Association Open Bow Shoot under Stall Barn
Trout Fishing Tank
Lots of great booths and food
Saturday - Kansas City BBQ Cookoff - Ribs & Pork
CAMPERS, FIRE PITS, BOATS, AND MUCH MUCH MORE
Bring the Entire Family as there is something for everyone!!

Check us out on Facebook