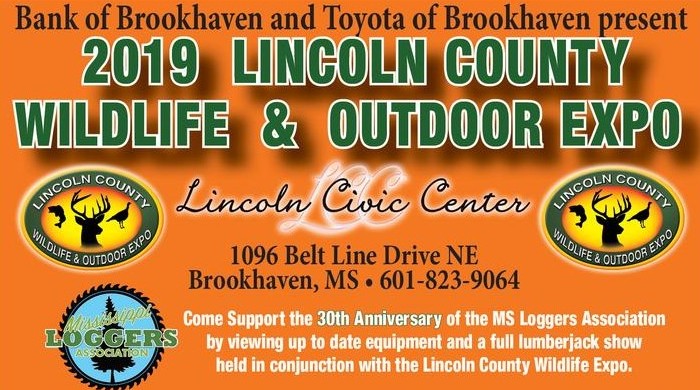 1096 Belt Line Drive NE • Brookhaven, MS • 601-823-9064
Friday, August 23 - 5:00pm to 9:00pm • Saturday, August 24 - 9:00am to 6:00pm
Admission Fees: Adults (13 and up) $6.00, Children (7-12) $5.00, Children (6 and under): Free
Third Annual Southwest MS QDMA Banquet 
held in conjunction with the
Lincoln County Wildlife Expo
Thursday Night, Aug. 22, 2019
Featuring Ronnie "Cuz" Strickland of Mossy Oak
Located at the Brookhaven Building - Starting at 6 PM
Sponsor Packages and amenities available
For info contact Bruce Gray - 601-754-5592
(Promo Code: Expo)
FANTASTIC EVENTS TO LOOK FORWARD TO THIS YEAR!
Professional Lumber Jack Shows
Pig Catching
Jump Zone for Kids
Museum of Natural Science
Baby Alligators
The Snake Man Terry Vandeventer
Face Painting
VFD Hand Grabbing Tanks
Aim Program Bow Shoot
M4 Open Bow Shoot under Stall Barn
Lots of great booths and food
CAMPERS, FIRE PITS, BOATS, AND MUCH MUCH MORE
Bring the Entire Family as there is something for everyone!!
Sponsor and Activity Presentation

Check us out on Facebook
---
The 2019 Lincoln County Wildlife Expo is Aug. 23rd and 24th, 2019 and we have lots of great and new things to tell you about!
Last year's show was moved to the weekend before Labor Day and resulted in a three-year attendance high. We had lots of good booths and family entertainment that we believe will bring the crowd back for 2019. New for 2019, we have partnered with the MS Loggers Association to host in conjunction with our show the 30th Anniversary of the MS Loggers Association. This partnership will bring lots of logging booths and equipment as well as an upgrade to our lumberjack show to a full show with climbing and other activities. 
Bring the entire family out and enjoy the 2019 Lincoln County Wildlife Expo. For more information Contact Quinn Jordan 601-823-9064